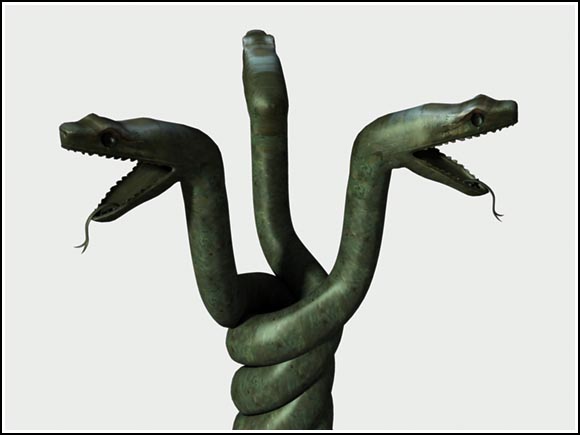 After the victory over the Persians in 479 B. C. the Greeks offered this tripod at the oracle of Delphi, from where it was brought to Byzantium. It may be one of the tripods mentioned there in the early byzantine time, and possibly gave the name to the palace hall usually called the Delphax.
It is unknown when the tripod came into the hippodrome where it stands today, and when the tripod itself disappeared. In the late byzantine time only the three snakes remained that formerly had supported the bowl in the middle. The Column of the Snakes, as it was called now, survived until the ottoman time, the heads of the snakes were broken off only around 1700. Upper jaw of one of the snake heads is now in Istanbul Archeology Museum.
---
The model below shows the Delphi Tripod as it was in Delphi and is based on Didier Laroche's research. Please see "Nouvelles observations sur le Trépied de Platées, BCH 113 (1989), 183-198".